Commissions are currently through request submission only.

✏️Please fill out this form to get in contact with me.✏️
------------------------------------------------------------------------------
Cost:

A non-refundable upfront payment of 50% of the total cost is required including any applicable rush fees or add-ons. You can choose to pay the entire cost upfront as well. You will receive a rough sketch of what the final product is projected to be first. Once approved, the remaining 50% will need to be paid before I continue to finish the commission. Payments will be made through Venmo or Paypal.
There are three tiers: Simple, Detailed, and Complex
Simple: $25+
Detailed: $40+
Complex: $80+

Examples of past commissions: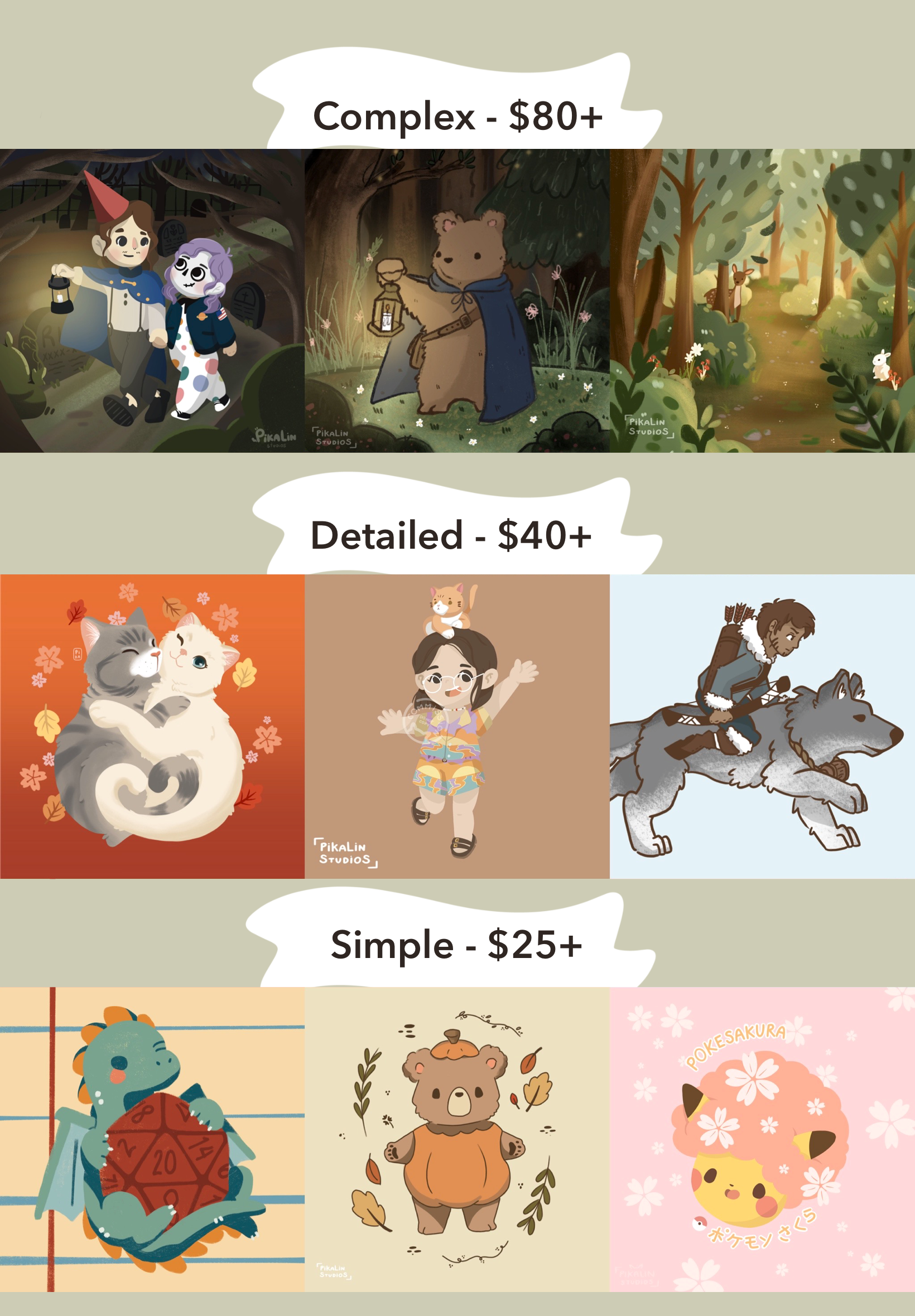 Depending on the commission, the cost will start at the base cost of the selected tier but not exceed the base cost of the next tier. For example, a "Detailed" commission will start at $40, but cap at $80. This is to allow for flexibility within range for both parties. Complex commissions do not have a cap and will be determined upon review.
Lead Time and Rush Fee:

The lead time for simple and detailed commissions is 5 business days and 10 business days for complex commissions. If you require your commission to be completed before the projected lead time, a fee of $10 per day of rush will be applied. This will be calculated by the lead time minus the days required for the commission to be completed, multiplied by $10. Next-day rush is available only for detailed or simple commissions at a flat rate of $60.

Example:
I need a simple or detailed commission in 2 business days:
5 days lead - 2 business day = 3 days x $10 = $30 rush fee

I need a complex commission in 6 business days:
10 days lead - 6 business day = 4 days x $10 = $40 rush fee


Art Details:
You can provide me with as much detail as you'd like (ex. I want a Pikachu flying through the Grand Canyon with a jetpack) or you can give me a rough idea and I can create something for you (ex. I like horses). After you receive the proof and the design is agreed upon, I will not make adjustments for you when I begin the drawing process. When coloring is complete, you can make up to three color changes to the art (brighten the background, change blue to red, etc.)


What to expect:
Once payment is received, you will have up to three (3) official photo communications. The first will be the line-art of the approved rough sketch. The second will be the initial draft with color. You may choose to approve this draft, and the commission will be sent to you here. If there are changes that need to be made, you will then receive a third and final draft of the commission. Unless reasonable concerns are brought up (e.g. stray line, uncolored area) any edits after the final will incur additional fees starting at $25 per edit.

Ownership:
I am the sole owner of the art created and I reserve the right to share, post, and create merchandise with the design. Commissions are for personal use only. You may share the art (watermark can not be removed) on social media. You can print the design for personal use (making birthday cards, your own poster, etc.) but you may not sell these items. You may not use the art for commercial purposes.
What is included in the commission:
You will receive a digital .png file of the final art sent to the email address listed on the purchase (unless otherwise specified).
***Receipt of payment indicates that you AGREE to the rules listed here in addition to anything that may be discussed privately***